It all started for Nadine van der Zee in 2009, with one wild night at a café. Nadine was looking for a place to rent so she could start her own shop. That night, she spoke to café visitors and something miraculous happened. She heard about the availability of an old monumental building in the middle of the Nine Streets of Amsterdam. It sounded like the perfect place to realize her dream and The Darling was born.
Now The Darling has grown into its own brand with multiple flag ship stores, selling points and webshop. We created a personal lifestyle with a great team of lovely darlings, a romantic bohemian Garden House, our own styled Darling loft and a road trip camper, all for rent.
Over time we developed ourselves as real treasure hunters. We let ourselves get inspired by everyday life, our travels, all the people around us and their stories. As well as collecting, producing and designing all kinds of treasures we create our own characteristic collection and give our creative platform its authenticity and personal vibe. Our collection is a mix of unique affordable clothes, jewellery, life style products, furniture and accessories; some vintage, some handmade, all selected or designed with love.
Our mission is to spread a little kindness so people feel at ease and are more willing to look at the world with an open mind. You are only fully dressed with an inner smile we believe. Our shop is a place where beside shopping you can also relax and settle down in what feels like your own living room.
We hope to influence and inspire people by creating a setting where they feel comfortable and are brought together in different ways – for example by organizing events or workshops. Our aim is to create a darling lifestyle that reminds us and the people around us of the joy, adventure and beauty of the little things we think count in life. Let us know when you have an idea, thought or a nice way to connect, we love to collaborate in all kind of ways!
We love to see you soon in one of our shops and make you feel at home, Darling!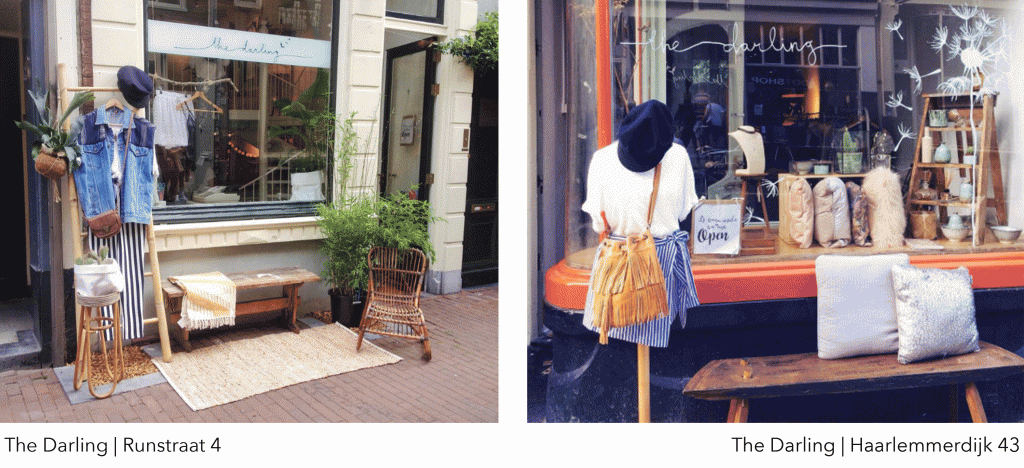 *Not all items are produced by ourselves. Each of them is provided with our darling logo to make clear they are one of the treasures that complete our darling collection, gathered with love.
** Most of our items have their own washing instructions. If not, please take caution when washing them. We recommend washing fine fabrics at 30 degrees & low rotations,  and never putting items in the dryer, but to hang them up out of direct sunlight. Don't hesitate to contact us if you have any doubts Darling, we are happy to help! Washing any items outside of our recommendations is at your own risk.
*** Items that are unworn with tags still attached and including the receipt can be exchanged within two weeks or be returned for store credit.